Today's workout: 60 min Spin
I tried a new spin class at the gym this morning with a new instructor. Let's just say I was prepared to be disappointed. The other new teacher they brought in has terrible taste in music, terrrrrrible. Awesomely enough though, I was totally surprised by her bumpin' beats, high energy, and great coaching.
Thursday's at 9:30 are officially
reserved
for her class.
Spin: where I
almost
have as much fun at this girl:
But definitely not as much fun as this girl: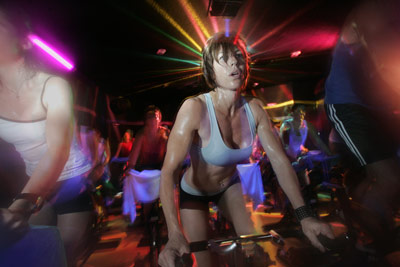 I'm sorry, is that a photo of a rave or a spin class?
After work today, I had some serious running around to do. The Holiday's kind of crept up on me, and I've been trying to get everything organized to get to the post office before tomorrow. Yeah, I thought I was going to be good to go by Monday. Epic fail.
While wrapping presents and addressing cards, these pretties were baking in the oven for the Husband to take into work tomorrow.
Shamefully under-baked. Don't worry, they went back into the oven. But not before I found a spoon!
To cut back on some of the fat, I used canned pumpkin in place of oil, and pasteurized egg whites instead of the whole egg. (And yes, this means you can technically eat the dough raw ;)
He deserved some brownies. I mean, look what he came home with for me :)
And
these
pretties also came from Zappos today. :) Just in time for the husband's Holiday party tomorrow evening.
They're on sale!
I love that I try to take artsy photos of dorky shoes. I'm kind of crazy about the cheetah print and that colorful pop of red.
I have a thing for prints and sequins. Even my slipper sparkle.
Don't forget that tomorrow is my first ever FLEX FRIDAY! I already have a few readers who have emailed me their photos, woot woot! Show me your guns, your abs, bring sexy back! You worked hard, let it shine!
A photo of the husband and I at the Holiday ball last weekend, flexing a smile. I think if my husband smiles any harder he might crack his cheeks.
Are you done with all of your Christmas shopping?
Do you believe in Santa?
I love Santa! When I was a kid, my parents were awesome. I remember my dad even jingling sleigh bells one night as I was falling asleep, I was convinced they were coming from the roof and Santa was coming down the chimney that very moment.