It seems like everyone likes the dark leopard over the light grey! So, on my way home from work today, I stopped into Finish Line Sports and looked at them in person to do some side by side comparison.
The light grey is actually a darker/medium grey and the dark leopard actually looked
really dark, almost
black. I wasn't too sold on either of them after seeing them in the store.
I really love my Nike Free's though, they're just a good all around shoe. Enough cushioning for running, but not too much that I can't WOD in them. So, I have no idea what shoe to get now. Holler for some serious indecision.
Speaking of the WOD, here's what went down today.
Deadlifts are my favorite. :) And holy smokes my buns are toast.
I can't wait to squat what I can deadlift one day.
Baby steps, baby steps. So tomorrow is bench press, and Sunday is overhead press. I love overhead pressing. Because it's short and sweet. The bar is loaded with minimal amounts of weight and the weight is increased just ever so slightly. I've pressed 95x3, think that was about a month ago. I'm not sure what Wendler will have me lifting, we'll see what my handy dandy app says.
After, I ran 3 miles with some clients.
I was covered in beads of sweat, not apparent in this apparently incredibly high-resolution photo. The shame.
Anyhoo, a reader asked about my "clean" Starbucks drink order.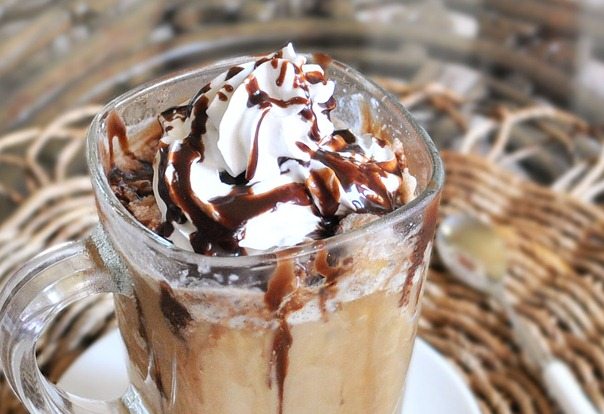 What? That doesn't look healthy to you?
While everyone has a different version of what they consider clean, to me it means low in calories and sugar. I order a few different things, depending on the mood. Please don't attack me because *gasp* I order it with the sugar-free syrup!
Order #1: Americano. Just like that. Espresso and water.
Order #2: Americano with sugar free syrup of choice.
Order#3: Americano with Stevia Nu Naturals drops that I keep in my purse. Yes, you heard that right. I keep a dropper bottle in my purse to sweeten things when I'm out and about. I wish life was this easily sweetened.
Adding cinnamon to your coffee makes a world of difference as well. The shakers are over there by the creamers and sugars. Sometimes, if I know I'm going to be hitting a WOD really hard or need extra energy, I'll throw a little half and half in there. Yes, half and half, the real, creamy, delicious deal.
I've dubbed my Americano with
sugar-free peppermint flavor,
a dash of
half and half
and a dash of
cinnamon
my
Skinny Peppermint Americano.
So witty,
I know.
If you could only wear pants with a tank top or long sleeve with shorts for the rest of your life, what would you wear, and why?
This questions breaks my heart, and I'm the one asking it! I get a lot of compliments on my quadzilla's, so I have to say shorts and a long sleeve.