Happy New Year!
Nothing like new beginnings and a fresh start!
I took a blogging vacation after I injured my back, as that really slowed my roll and screwed with my routine. I also started counting calories on My Fitness Pal, and as a result my eats have become really, really damn boring!
But, injury aside, I'm back to blogging and learning how to make my clean, though hum-drum, food a little jazzier. I figure I only have a few more months to blog before I sign away my life ship off to Basic Training, so I need to enjoy the opportunity while I have it!
This year I am focusing on:
Clean Eating
Eating balanced macros. Getting my veggies. Lean proteins. Going for lower-carb options. Taking a page from Tosca Reno, Jamie Eason and recipes found in my Oxygen magazines. And counting calories.
Love these gals!
Building Lean Muscle
More specifically, I'd like to work on building rounder shoulders, higher and tighter glutes and of course, eating clean to see more of that six pack! And no, I don't mean beer!
Acing the APFT
The
APFT
is the Army Physical Fitness Test. You can read more about it
here.
It's a timed 2-mile run, sit up and push up test. I would like to score a 100% in all three areas. I took a diagnostic fitness test a few weeks ago, I took over 100% in the run (14:02) and 100% on the push-ups (47) yet was lacking in the sit-up test. Partly because I have a low-back injury and they were super painful, but also because
I just don't work my core and hip flexors often enough.
I'll be focusing on a
sit-up and core work pyramid
for the next three months, and timing myself once a week to see how I'm progressing.
The goal is 82 in two minutes.
I'll also be doing sprint intervals and timed two-mile runs, the goal is finishing in at least 15:36. For the push up portion, I'll be focusing on a push up pyramid and also continuing to time myself every other week to see how I'm progressing.

The goal is 50 in two minutes.
Running my first 26.2
I am not giving this goal as much attention as it needs, probably. ;) The only training I am devoting to the marathon is a dedicated long run on the weekends. I'm hoping my other gym training, cardio sessions, weight lifting, sprints and Crosfit-type workouts will keep me in decent running shape. Will I knock it out in under four hours? Probably not. The goal is to finish - to say I did the damn thing!
Per the count down, it's in 55 days!
I don't know about you, but ...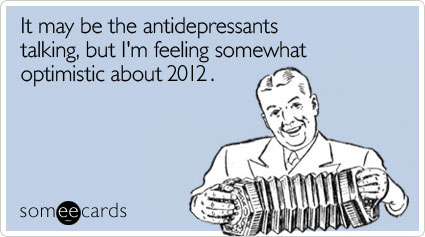 Here's to a New Year!