Because they're fast, they're easy, and they're not going to ruin your waistline!
Single-Serving Monkey Bread
Buttery, cinnamony, warm, yeasty, so good!
I used calorie-free butter spray, so mine are even lower in calories, about 100 each.)
Oatmeal Chocolate Chip Cookies
These are to-die for! The secret? Beans! 56 calories a pop and heavenly!
Protein-filled and gluten free? That's one happy bowl in my book!
This was my first ever experience with quinoa, and it was wonderful!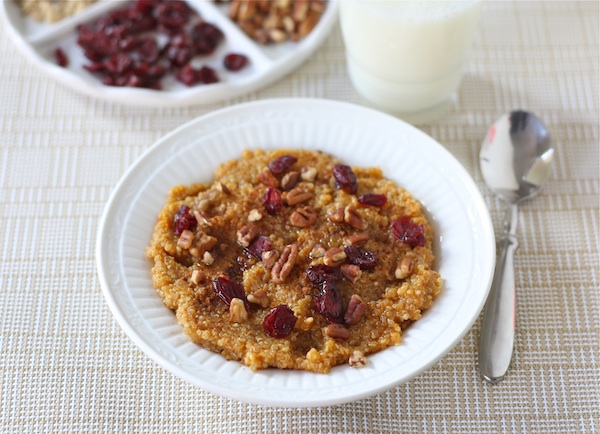 100 Calorie Pumpkin Pie Tartlets
They taste just like pumpkin pie but without any of the guilt!
And
they're gluten-free. And they're super yummy to wrap and stash and munch on in the movie theatre while watching The Thing! Just sayin'. Check out this
super easy recipe.
Holy moly.
Go make this now.
153 calories a serving, 100% natural, and just about 3 ingreeds.
Did you just fall out of your chair?!
I did something I haven't done in a long time today. I jumped on the Stair Climber! I was a little hesitant and embarrassed, to be honest, and I hoped no one from Crossfit spotted me bouncing along. I felt a little silly. But the workout was great. I watched Robin Meade and the morning news, while rockin' my favorite techno music on Pandora. I stomped away for a solid 60 minutes,
climbed 352 flights of stairs
and burned 550 calories. My average HR was 168 beats per minute. That's well above 80% of my max, and I reached a high of 188 beats per minute. So, to anyone that thinks cardio machines are boring, you just need to learn how to use them. I was
gasping for air
breathless and left
an ocean
rather small puddle of sweat behind, fosho.
The best part of my day though is always my 8:00am spin class. :) On Friday's it's a party! Everyone crams in there to get one last heavy sweat session in before the weekend festivities and drankin' begins.
On a final note, I am so MAD that my Rangers lost the
World Series!
What is your go-to cardio machine?
I recently tried out the elliptical and the stair-master. Usually I jump on the treadmill, because all of the other gym cardio machines have kind of a bad rep. C'mon, we all know those girls that text and chat on their cells when they're on the elliptical. Not the crowd I want to be associated with.
Have you discovered a guilt-free holiday dessert for me?
Share, share!